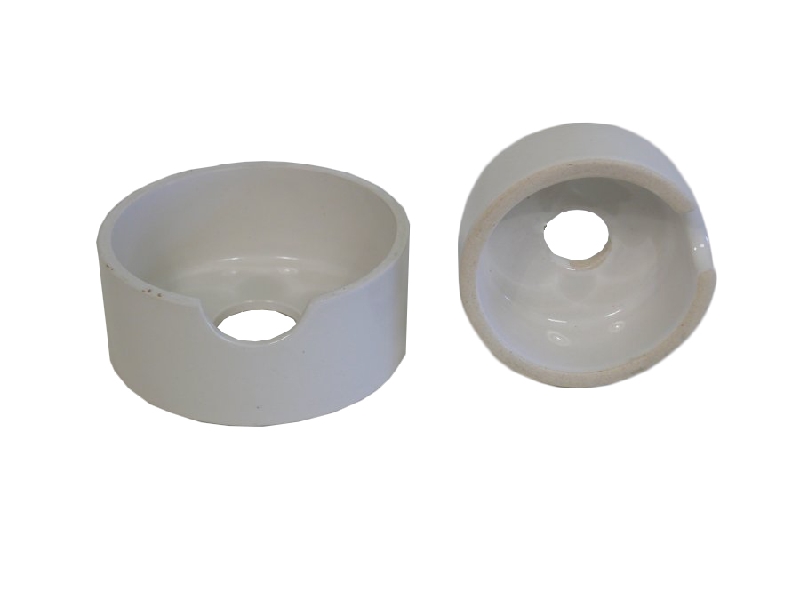 Crucible With Lid
Crucible With Lid is made of porcelain, used basically for heating chemicals & reagents in chemistry lab.It is also avaialble in SILICA material,an export worthy quality.
Dessicator Plate
Dessicator Plate is made of porcelain, used inside dessicator.
China Dish
Evaporating Basin or China Dish is used for heating Reagents. It is made of Porcelain.Available in Different Sizes:- 2" Dia2.5" Dia3" Dia4" Dia6" Dia8" Dia 
Pestle & Mortar
Pestle & Mortar is used for crushing chemicals & other lab material. Available in different sizes : 3",4",5",6".Available in two different materials: Porcelain & Soda Glass.
Rubber Tube
Rubber Tube coil comes in different varieties, sizes & qualities.I.D. Sizes: 6, 7, 8, 9, 10mmVarieties: Red,Extra Soft & Green Type pressure tubing's.
Spirit Lamp (Glass)
Spirit lamps are of different material. These in the picture are of soda glass, in hexagonal & round shape.
Spirit Lamps
Spirit Lamps are used in chemistry lab for heating purpose. Available in different metallic material & capacities.Material: S.S.; Aluminium, Brass & Soda Glass.Capacity: 60ml, 100ml & 125ml.
Spring Balance
Spring Balance 100gm to 1000gm, Plastic Flat100gm to 1000gm, Tubular Acrylic
Test Tube Stand 
Test Tube Stand comes in various material & Sizes.Material: Wooden, Aluminium , Plastic etc. It can be formed according to various capacities & sizes.Sizes:12mm, 12 Hole12mm, 24 Hole15mm, 12 Hole15mm, 24 Hole18mm, 12 Hole18mm, 24 Hole25mm, 12..
Tripod Stand
Tripod Stand is Made of different material like S.S. & Iron Powder Coated. It can of different qualities depending upon the heavyness of material. Comes in two different sizes 6" & 8" commonly.
Universal Clamp
A very superior quality clamp, di pressed & powder coated.
Wire Gauge
with asbestos centre, Routine Quality with asbestos centre & Frame with Ceramic Centre 6"